health magazine that covers mainly health / fitness related topics including but limited to skin care, therapy, natural remedies or yoga as well. Feel free to subscribe our mailing list.
The Mughal Period:
The Salwar meaning pants and Kameez meaning shirts is a traditional dress which is believed to have had its origin in Afghanistan. It is believed to have made its way to India centuries ago. It was largely worn in Punjab and later it became a popular dress in India. Now its popularity has spread to other parts of the world. In fact, Salwar Kameez is worn both by men and women irrespective of age. Considering its popularity and wide acceptance by both men and women, many fabric designers started giving new designs to this traditional dress. In fact, history says that the credit for designer Salwar Kameez should go to the Mughal royal family. It is said that women of this royal family were wearing these dresses which were exclusively designed for them. With the passage of time, these designs have undergone transformations at the hands of the popular designers of the modern era.
Contribution of Indian Fabric Designers: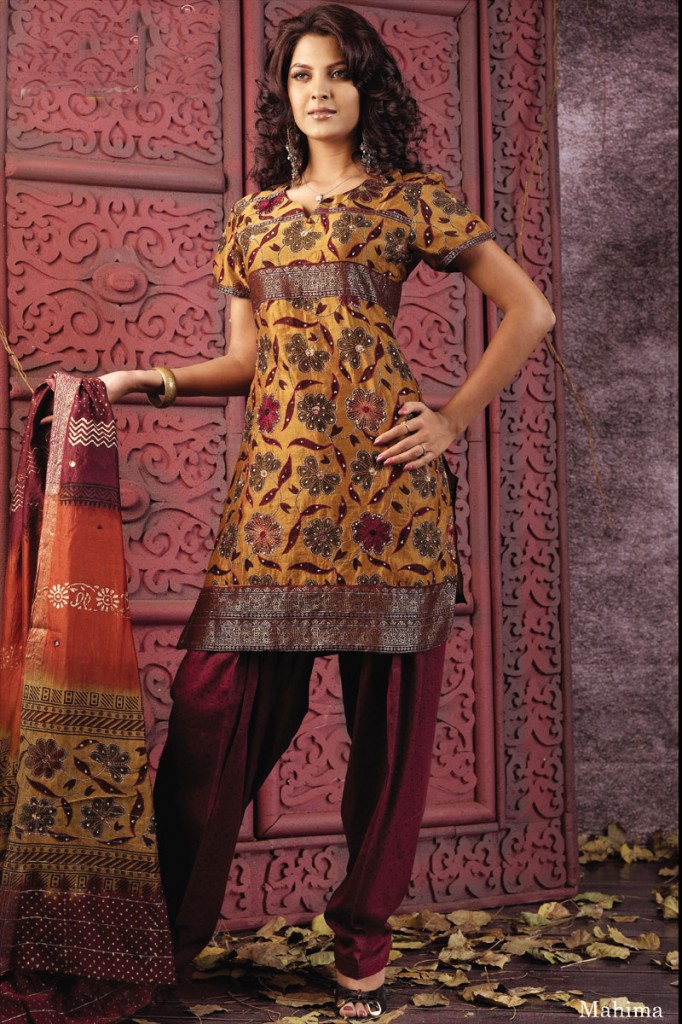 In course of time, some of the popular Fabric designers from India like the Anarkali  came out with several eye catching designs in different fabrics like cotton, satin, silk, crepe, georgette and so on. The intricate artworks of Kundan and Jardosi added glamour to the design. These designs depict the true Indian tradition and culture. Some of the designers also gave true contemporary designs without losing the true Indian tradition and culture. Such designs became largely accepted by the people not only from India but even from the West. Designers came out with specially designed Salwar Kameez ideal for casual wear, bridal wear, party wear and the like. The draperies called Chunni or Duppata normally worn by women on the top adds glamour to this traditional dress. Such designer Salwar Kameez certainly looks more attractive than ever before.
Designer Salwar Kameez: The First Preference:
The designers' painstaking effort to make the Salwar Kameez look more gorgeous and comfortable has paid a rich dividend. Such designs have received spontaneous acceptance by everyone throughout India. In fact, it is slowly making inroads in to the West as well. In fact, you would have noticed that Bridal and Grooms Salwar Kameez is becoming more popular since the recent past. The Groom's Salwar Kameez is slowly replacing the Western Suit culture. This is because, ultimately comfort and the look is all that matters. Thanks to the celebrities of Bollywood and from other regional film world; they have contributed their bit to popularize the designer Salwar Kameez. Some of them get these dresses specially designed for them for parities and for purposes of the movies in which they are working. It is natural that such designs receive wider acceptance by the people. Some of the designers are of the opinion in spite of the competition from the western attire culture, Salwar Kameez continues to be accepted as a most preferred dress among the people of not only Asia but even in the West. That should be sufficient to evaluate the influence of designer Salwar Kameez on the people. Some of the fabric manufacturers have brought out these designers Salwar Kameez in different price ranges so that every section of the population could afford them.  As a result, more and more people have started opting for these comfortable and stylish dresses.