Girls love to look good, even from an early age we become accustomed to how makeup can make a huge difference to our appearance. The days of creeping in your mothers room to put on some of her bright red lippy and pink blush are now gone. If you are a young lady than you will know the importance of having the right type of lip gloss or the mascara that makes your lashes thick and full. Young ladies love to party and many has a huge assortment of nail polish. Lipstick, eyeliner etc. If you want to make getting ready for that Saturday night bash than perhaps cleaning and sorting out your makeup bag could help. Here are some tips on what should go where to help you get ready in much quicker time. I'm sure your spouse would appreciate these pointers.
Do you really need that?
I myself own a makeup bag and know how hard it can be too let go of my once amazingly cool eyeliner that made my eyes stand out. However, I have sharpened the eyeliner so many times and regrettably it is no longer useable. Rather than trying to use something that is past its best, why not invest in a new one altogether? Seriously, have a good sort out and decide what you do and don't wear. If you find it hard to let things go then why not pass the bits you don't use onto your younger sister/niece? That way you will have peace of mind.
Stick with the times
Do you have all you need? There are numerous trends to keep up with. If you aren't really into following new trends then at least check out what is available. If your old moisturizer is failing then looking for a new one will help a lot!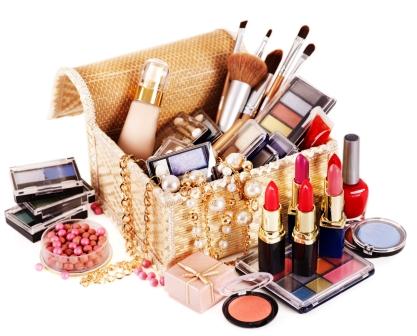 Have you got the right cosmetics?
Pale skin with bright pink lipstick may look somewhat outrageous or perhaps you like to trend the smokey eye effect a little too much. You could opt for a whole new look which will not only flatter your look but you will be able to accentuate your natural beauty. If you have red hair and pale skin then you could look into which colors and types of makeup will suit you best. Whether you have blue, green, or hazel colored eyes, there are numerous styles of makeup to flatter every girl.
Have enough space?
If your cosmetics are overflowing out of your makeup case than you may need to consider investing in a brand new bag or case. If you are a glamorous girl than you may require a decent sized cosmetic case to hold all of your bits and pieces. There are numerous makeup bags and cases out there which are suitable for every single girls needs and likes. why not pick up a leopard print bag, or perhaps you prefer a more simple style. Regardless of your preferences there will surely be something available to meet your specifications.
So, there you have it girls. These three top tips will surely help you keep your makeup in an orderly manner and help to speed up the entire process of getting ready.
Author: Gemma wrote this article to help you organize your makeup bag, she also recommends going to RetailPackaging for other bags such as gift bags and wrapping for those all important gifts for your family and friends. The website is great as it allows you to buy in bulk and the bags are reusable for all those green people out there!