While laser hair removal is hardly an excruciating experience, there's no doubt that you should prepare accordingly if you wish to reduce the pain and also increase its potential effectiveness. The nature of the treatment means that highly charged lasers will be fixated on your body for relatively long periods of time and if you don't take the necessary precautions, it's debatable whether or not you will receive value for money.
Of course, most reputable clinics will provide you with a standard information sheet which will detail what you can and can't do prior to each session and if you haven't received one of these, it might be advisable to click here and utilise another establishment. Alternatively, if you wish to double check any additional precautions which should be taken, take a look at the following tips which should hopefully increase the chances of you experiencing a successful laser hair removal treatment course.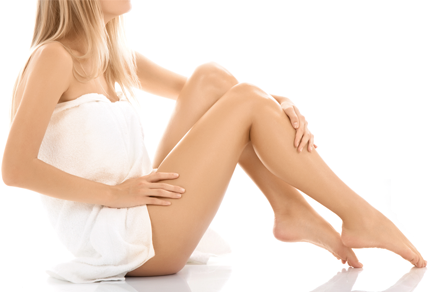 Avoid any form of tanning treatment
The main rule for laser hair treatment relates to the skin tone and if you engage in any sort of tanning procedure beforehand, you risk putting the whole process in jeopardy. It's a well-known fact that light skin reacts better to the lasers and those women with darker skin tend to struggle to experience comparable results. Therefore, it doesn't matter whether it's a spray tan or one that has been sought via a sunbed; avoid it until your clinic informs you that it is safe to do so. Considering the frequency of laser hair treatment sessions, this might mean that you will have to stay out of the sun, whether this is natural or not, for the considerable future. This is also the reason why a lot of people tend to undergo the treatment during the winter months, where there is a smaller chance of a natural tan occurring.
Do not manually remove any hair before the treatment
This is another tip of huge importance and applies for up to a month before your scheduled session. While it's perfectly fine to shave the area (more on that later), if you remove hair by any other means such as by plucking or waxing you are compromising the results. This is because hair needs to be visible in order for the lasers to target it and the above techniques will not allow that to happen.
Mildly shave the area in accordance with instructions
The vast majority of clinics will recommend that you shave the area a couple of days before the scheduled appointment. This is merely for pain reduction reasons and while some hair does need to exist in the area, if there is too much there the treatment will become a lot more painful.
Keep the skin free of cosmetics
One of the obvious tips focusses around cosmetics in the region and you must ensure that the targeted area is completely natural and free of any lotions or creams as the treatment starts. These chemicals can block the laser and make it utterly ineffective, although this is another issue that you will most probably be advised about during the initial consultation with your clinic.