That great bastion of a nation, the rock upon which our geo-political landscape has been built – the British party. Hordes of nervous people, crammed together inside a room. Only with scant quantities of white wine and nibbles can you fend off the barrage of questions which will be indirectly fired your way. Be prepared to talk in positive terms about where you work, what you do, what schools you went to, whether you are married, whether you have kids, if so, how many…. the list is never ending. By the end of the night, you are a nervous wreck, with both an inability to speak and a pathological fear of further social gatherings of any type.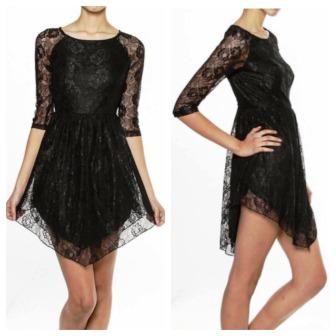 Last year, I reckon I went to a party or big social event once every other week, with a few more thrown in at Christmas. So let's say about thirty parties. Forgive me for looking at the darker side of the moon, but in my mind that's thirty sleepless nights worrying about make-up, hair, shoes, accessories, bags and coats to match whatever dress I had purchased. Enough to give a person a fashion break-down, to be frank!
Tired of having to decide what to wear to every party, I found a new fashion staple in the form of the little black dress (LBD). The LBD was born in the roaring '20s and has been popular with women all over the world ever since. Seared forever into contemporary culture by Audrey Hepburn in Breakfast at Tiffany's, LBDs are simple and chic.
If you are a busy working girl, then you probably don't have time to shop around and find a new dress for every occasion. Black dresses work wonders, as they can be dressed up or down to suit.
The LBD flatters all figures and comes in a range of styles. Choose from long or short sleeves and lacy, chiffon or silk materials. Whatever your preference, there's a black dress to suit your tastes.
By investing in a few quality LBDs, you will save money on new clothes and recycle accessories. Likewise, you only need one pair of signature shoes to match your black dress and you are sorted for a multitude of occasions.
LBDs don't even need accessories. If you're keeping the outfit simple, then you can add glamour by styling your hair differently or by wearing a bright lipstick and matching nails.
This season, LBDs work well with the ethnic prints and monochrome looks seen on the catwalk. Team your black dress with a patterned scarf to create a dynamic effect. Or, wear a LBD with lacy white blouse and white court shoes to rock the monochrome style. Perfect!
Author Bio:
Pia Redman is a blogger who (normally) enjoys socialising. As such she has found it useful to have a Little Black Dress in the wardrobe ready for any occasion, be it formal, informal, or somewhere in between.