Fashions change every year. In fact, they change two to three times a year as top fashion designers regularly debut new creations for their spring/summer and winter/fall collections. This means that fashionistas all over the world clear their wardrobes of last year's collection, then go out and buy new clothes again. That is fine for them, but you and I may not be able to afford the latest Burberry metallic bags even though they are utterly delicious. Does that mean that all you can do is salivate over pictures of lovely bags, wonderful shoes and technically perfect dresses?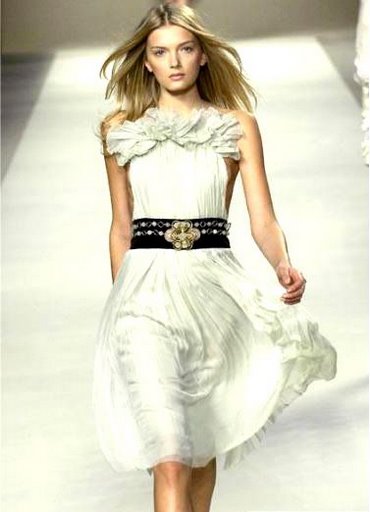 No. You can buy or rent these latest fashions and you can wear them as well. This is where gently used designer clothing from special stores is a godsend for people like you and me. No need to get confused with the terminology and the concept as we've created a short guide just for this reason. Take ten minutes to read through our guide and sit back to become the fashion envy of your friends.
Start by finding a good gently owned fashion clothing store, consignment store or thrift store. There is a slight difference in these three types of stores and it's important that you understand this clearly. Pre-owned designer clothing stores are shops that actively buy last year's high-end clothing from owners. They may buy from large stores, second's sales or even from private owners who want to update their wardrobe. Once they have purchased the item, it is mended and then tagged with a purchase price or a rental price. You can choose to purchase or rent the piece from the store. Consignment stores usually accept items from owners and then resell them to customers. The owner usually gets about 30% to about 40% of the sale price and the store keeps the rest. Thrift stores are completely different as owners just give away what they have to charity and the store keeps the money. There is no personal guarantee on the clothing at thrift stores but other stores do guarantee their goods.
Check the online catalog. Almost all of these stores will have an online catalog that you can go through. We recommend you look at the items and then decide whether you want to rent/purchase the pieces. Once you have made a decision, you have to click on the picture and the website will direct you towards the purchase page or the rental agreement. For example, websites like walkinmycloset.com do not offer rental options. However, they do offer purchase options and sale options. That means you can list your couture clothing for sale on the website and buy items from the website as well. Upscale websites also offer concierge services where your sale items are picked up, valued, repaired and listed for sale by the website. The concierge service will also individually pack and then ship your purchased items to your home directly at no extra cost.
It's that simple. All you have to do is find the best website, trawl the catalog, pick out pieces and you are done.