Fairytales have been an essential part of every little girl's childhood memories. They watch or even read fairytale stories and hope that one day they will marry their own Prince Charming. If you were one of those little girls and you want to make that fairytale wedding come to life, then the first thing you might want to do is to plan your princess wedding dress. Of course, the wedding itself should still be fancy and glamorous. The wedding ceremony should be solemn and the wedding reception should be extravagant. A princess deserves all the nicest things in the world, starting from the wedding venue down to the finder details of your Disney themed dress.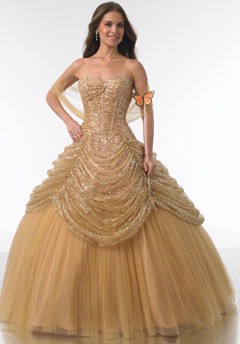 The Disney princesses have colored the life of many little girls. As a matter of fact, even those who are still young at heart know the famous stories of Sleeping Beauty, Cinderella, Snow White and the Little Mermaid. Those women who want to experience the same magical fairytale wedding spend some time looking for wedding dresses that would really make them look and feel like a real princess.
Choosing A Disney Themed Wedding Gown
Choosing the right Disney wedding gown is actually easier than you may have thought. Disney themed dresses bare two silhouettes; the A-line gown and the full skirt ball gown. Both of these styles of wedding dress are perfect to use as it perfectly hides the problematic areas of the body. No matter what your shape and size, you will significantly benefit from wearing a princess wedding gown.
The Main Characteristics
A Disney themed wedding dress is characterized by a fitted bodice. It also has a darling neckline that features the shape of the heart which is purposely cut to cover the chest area. Glamorous Disney wedding dresses tend to have extravagant embellishments. Most have a beaded bodice adorned with Swarovski crystals and pearls, while others boast of lace and studs.
The Overall Costs
The use of princess style wedding dresses started a long time ago, but it is even popular in the age of today. As a matter of fact, Disneytype dresses are featured in some of the most famous wedding magazines. The price of one of these wedding gowns varies depending on its design. For the most part, dresses with the most intricate designs and fancy embellishments are more expensive. If money is not a problem to you, then by all means you can add whatever you want.
On the other hand, if you are on a tighter budget, then you shouldn't worry for there are affordable alternatives. You can choose simpler designs, but still looks elegant and fabulous. If you want to wear a Disney themed wedding dress, then you should first consider your budget. Determine how much you are willing to spend for your wedding dress. If you want your dress to be custom made, then you have to inform the designer beforehand about your allocated budget.
Conclusion
Disney themes have indeed transformed from a magical fairytale to a real life happy ending. Nowadays, you can find a huge selection of Disney themed wedding dresses. These dresses will not make you look like a new age Cinderella or Snow White, but it will certainly make you look and feel like a real princess. You will truly be a princess in your own right on your special day.
About Author:

Samantha King is a fashion designer that specializes in designing high end wedding dresses. Her designs primarily focus on modern wedding dresses as well as Disney themed wedding dresses. She also writes articles related to the wedding sector and her articles are featured in various wedding sites and online magazines.