health magazine that covers mainly health / fitness related topics including but limited to skin care, therapy, natural remedies or yoga as well. Feel free to subscribe our mailing list.
Women can look amazing in skinnies, you just have to look at the likes of Kate Moss who can really bring a cuff look to life. When it comes to trends, this is one that's continued to feature on the runways and catwalks around the world. But it's not just the girls who have taken to the look, because men too have made this trend very much their own. Some guys have got it right and a few have got it wrong but when it comes to which men's shoes to wear with cuffed skinnies – it takes careful thought or you could ruin an otherwise neat look!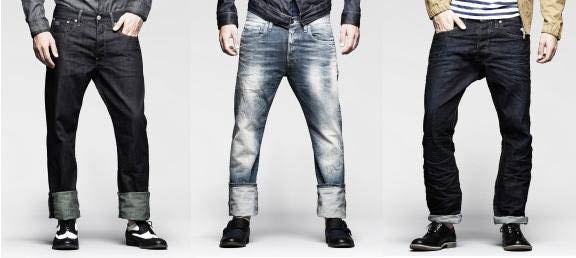 Transform Your Look in a Blink of a Roll
The best part is you can transform a look by a simple roll up which turns what was a pretty ordinary look into one that's eye catching. Naturally what you put on your feet makes all the difference because get it wrong and the look is ruined, get it right and it's the look can have a real 'wow' factor.
The Relaxed Layered Spring Look
Skinnies turned up worn with deck shoes and loose tea shirt with a jacket thrown over makes for a great relaxed layered look that oozes style. Instead of deck shoes think lace up sneakers that sit high on your ankles – they're smart looking and go brilliantly with a cuffed skinny jean look. Layering is a great way to create a versatile look because it makes it easier to mix and match footwear which makes it a lot easier when it comes to what men's shoes to wear so you keep a great look.
Bomber Jackets, Skinnies & Snazzy Footwear
Another great weekend look has to be skinnies rolled up and worn with a loose fitting shirt and baseball jacket – for shoes think deck shoes or snazzy trainers but make sure you don't choose any footwear that outshines your outfit – definitely not a good move!
Less is More
When it comes to the size of the cuff, less is definitely more. Large rolls are so uncool looking, which means the tighter the cuff the better the look. The key to getting it right is to make it look natural and not forced at all. Roll-ups should not look to perfect either because if they do, then you end up looking like you've just walked out of a style manual!
Forget Formal Footwear
Cuffed jeans and formal footwear are a definite no-no – the only men's shoes to wear which have a touch of formal about them and which look good with cuff jeans are perforated brogues and they have to be suede ones. Women can get away with wearing a pair of stylish ankle boots with cuffed skinnies both flat and higher heeled but when it comes to men – forget it because it won't work!
The Right Length Cuffed Skinny
The cuff needs to fall around 4 centimetres above the ankle if you want to achieve a great look – remember the cuff itself needs to be small, if too big it doesn't work at all. Casual, neat and comfy footwear are the only shoes to wear with cuffed skinnies. When it comes to what style of men's shoes to wear with cuffed jeans opt for that easy to wear look and you won't go far wrong!