Now I wouldn't go as far as saying a dog is merely a fashion accessory. But if I want to primp the canine a little bit, does that mean I love him any less? I certainly don't neglect him in any way, I am no Paris Hilton – he is not carried around in my handbag, but is still a proper dog! Just a prettier version of himself that enhances my own stylishness in a convenient way.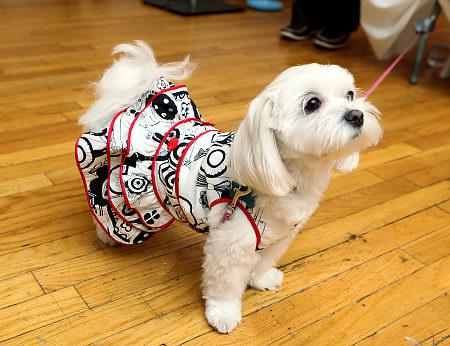 I am almost a bit disappointed my dog isn't a girl because there are so many cute dresses around, especially for small dogs. Some days I am actually tempted to have my dog cross-dress! They come in all shapes and colours, and especially frilly tutus are to die for, if you ask me! I have also seen denim dresses on terriers, now that is something you don't see every day. Very tasteful though. And I have a soft spot for dog dresses that come with matching hats. Some may even have a matching handbag, though I am not sure this is not going over the top a bit. Still, I suppose it can work on the right dog! My dog is a big, fluffy bobtail, so I obviously had to come up with an alternative. Because handbags and ruffles would not even work on a Bobtail girl. That actually makes me think of East German gymnasts!
However, my canine buddy certainly makes up for the fact that he cannot pull off a feminine attire. It was a bit of a struggle, but now, with my help, he has discovered his style. His style, that entails mostly baggy jumpers in all sorts of patterns. If we don't have to leave the house, but get ourselves comfortable at home on a rainy Sunday afternoon, we may opt for a jumper with really long sleeves that drag along the floor. It's unbearably cute. Of course I may be biased, but I think a Yorkshire Terrier in a frilly dress has got nothing on my shaggy friend. Especially when the jumper he wears has elbow patches!
Another option for large dogs are neckties and scarves of course. It's even easier to have your dog's attire match yours that way, since scarves are not very expensive and you can assemble a large collection over time. My doggy literally has about a million neckties just to himself in all sorts of different shades. They are especially ravishing when they match with his lead and collar, so he actually has quite a few different ones of those, too. And for special occasions that require that extra bit of chic, he has a black bow tie and a waistcoat. Of course, these accessories come out whenever my little black dress does. They say dogs start to resemble their owners – or vice versa!
It can't be all chic and glamour though. Dogs also need some practical clothing, such as a rain cape. The fact that they generally look adorable in such attire is no hindrance! They can also pull off all the violent colours we humans generally can't – I am thinking violent yellow or pink. Though if that will go with any outfit of mine I don't know…
This guest post was brought to you by www.nailtechniciancoursesuk.co.uk