The window treatment that you select for your home will affect the privacy that the rooms offer you. There are many window treatments that you can choose from and these include blinds, shades and curtains. A blind is essentially made with several pieces of the same material. Usually wood, plastic, metal or fabric is used to make window blinds. While there are many different styles to this window treatment, the classic horizontal and vertical blinds seem to be the most popular. Most homeowners prefer to opt for blinds because they give a person the chance to choose how much light they want to allow into the room.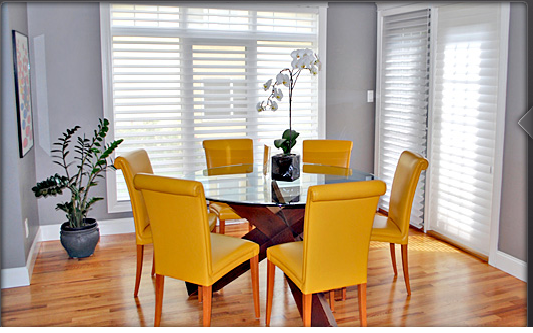 The faux wood blinds are a popular option that most home dwellers like to go for. And, there are several reasons for making such a choice. The window treatment offers an appearance quite like that of wooden blinds, but sans the hassles that come with it. The French word 'faux', literally means 'fake'. If you select this option, you are buying blinds that are made from synthetic polymers. They look quite similar to wood and are also heavy. When you opt to buy faux wooden blinds you reduce your worries about the wood fading and getting warped.
Wood Vs faux wooden blinds
When you opt for wood you will intend up paying quite a bit for the window treatment as the natural material is quite expensive. This is also not an environment friendly option.
Furthermore, you take on hassles such as warping and splitting of the wood.
The faux wood option is far cheaper, and suitable for most budgets. When you go for such a window dressing you also ensure that it will suit most types of interior décor.
It can endure high temperatures and high levels of humidity, making it durable and tough; and a great investment. In contrast, changes in environmental conditions affect natural wood rather adversely.
Advantages of your choice
Blinds offer a room an amount of privacy that curtains and shades don't. There are times when you would like to allow natural light into the room without compromising on your privacy and this is exactly what blinds offer. You can choose exactly how much you wish to leave the blinds open. Some other advantages of this window treatment are that they are easy to clean and maintain, unlike curtains or drapes. The latter would need to be dry-cleaned or laundered as per the instructions of the manufacturer.
Fake wood blinds are an excellent choice for any home or office. They are available in a range of colors including many shades of brown, white and cream. The blinds come in several sizes. So whether you are buying blinds for a small or a large window, you can choose a size that befits the window. They are easy to install, and open and close. Conducting an online survey will help you to understand the brands and products that are available. You can also select and buy from the privacy of your home.