There have been countless new devices on the market over recent years which claim to be able to reduce cellulite. This is because demand for cellulite treatments is so high, with a high percentage of women believing this to be a problem – in fact an estimated 80% of women over 20 may have cellulite.  However the majority of new cellulite products have not been able to produce proven and maintainable results.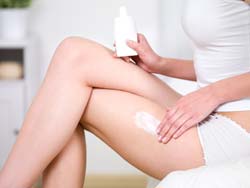 First FDA Approved Non Invasive Method of Cellulite Reduction

VelaSmooth is a revolutionary treatment from Elos, which has been found to be highly effective in treating cellulite, and reducing fat deposits. The system is one of a new generation of products featuring a high level of technology, which has been shown to have measurable and reproducible results in the clinic – and was the first FDA-cleared non-invasive medical solution for cellulite reduction.

How does it Work?

The combination of infra-red and Bi-polar radio frequency energies, along with tissue mobilization and suction have resulted in a safe and effective method of re-contouring the skin's surface and shrinking fat cells. The VelaSmooth penetrates deeply into the fat tissue, the light energy heats the treatment area, while a gentle suction and massage aids the effect of the radio-frequency energy. The metabolism of the fat and connective tissue are redistributed – re-contouring the skin's surface, and also improving overall circulation – benefiting overall health. The Elos technology used throughout the treatment requires less energy than other devices, while offering better results.

What Does Treatment Comprise of?

Sessions are short, lasting around 30 minutes only, and results can be observed as the treatment progresses – a process which in general takes from 6 to 8 weeks.  Maintenance treatments will need to be performed in order to keep the effect. Few people experience any side effects, although there may be a slight reddening of the skin for a short time afterwards and treatments simply feel like having a deep massage – so no sedation will be required.