Of all the things, couples love to discuss with each other and plan their wedding so as to celebrate this day. They would reveal each and every wish that they might have ever made in context of their marriage.
Needless to mention, almost every couple desire to make their wedding memorable and most significantly special, in every possible way. That indispensably includes planning your wedding gift registry list too. Isn't it?
The problem is that there have always been few traditional items that people enlist in their wedding registry. Reason being, they either let it go the way it has always been, because they are already much occupied with other preparations and all. Besides, they might also lack an idea of what to include in it, and what not. However, the fact is, wedding registries can include each and everything as per your choice and preferences.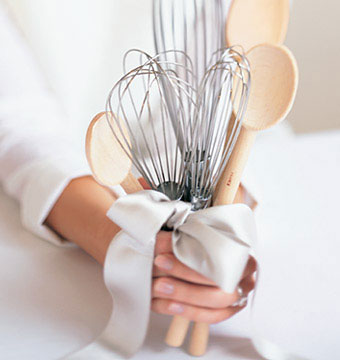 Why Pots and Pans?
Yes, accepted, that these would be of great use in your married life. In-fact you might use them every day to prepare omelet's, sauces and pancakes. However, pots and pans have been quite traditional items on the bridal registry list.
Instead, you may opt for some more creative alternatives, like a collection of recipes from world's best chefs, international cuisine classes etc. Sooner or later, these pots and pans mightn't be usable enough. After sufficient usages, of course you will have no other option than to just replace those with a newer one.
On the other hand, if you prefer other alternatives like a collection of the best recipes, or international cuisine classes, then you will learn to make new dishes, which is really great. Just imagine, no matter whatever he demands you to prepare in the food, you would be efficient with that. Doesn't it sound really great to possess the art of making dishes from each and every corner of the world?
Just a Bag Packed Luggage or an Actual Trip?
What would be your choice? Well, an upright ready bag is usually on everybody's bridal gift registry, and yes it's not a bad choice. Just after your marriage, you have a back packed ready luggage with all the necessary stuff to be taken in a trip. Sounds fantastic, right?
Yet, a trip to one of the most exotic locations would be a far better idea, isn't it? C'mon, your marriage is special, and to celebrate this momentous occasion, makes it remarkable for your lifetime, a memorable trip would of course be a great idea.
Formal Dinnerware or Dinner at an Exclusive Network
All those couples who enlisted the common formal dinnerware in their wedding registry soon realized that it has been of very little use. They use it rarely, in-fact soon the set finds it place in one of the corners of the room.
Instead, you may prefer a dinner planned at one of the finest restaurants in the city. That would of course be memorable, sweet, and you both will cherish the moments together. Anyways, a quality time together is much more preferable over a materialistic gift, and that too of little use.
Author bio:
Winnie Peterson is a fashion's guru and gives a lot of advice when it comes to classical weddings. When it comes to gifts, she mentions that wedding registry as one of the best ways of giving a wedding color and memories that will last.