Being a bride is the biggest and most important day of a woman's life. A lot of preparations are needed to be done before the big day. With finding the perfect wedding gown being on the very top of the list, and the hair and make up being the next most important. The hairstyle plays a very important role, because it needs to complement the dress. The perfect hairstyle needs to suit you, and make you feel confident. There are a huge variety of wedding hairstyles to choose from nowadays. Amongst it all, most brides still tend to go for the most classic hairstyles.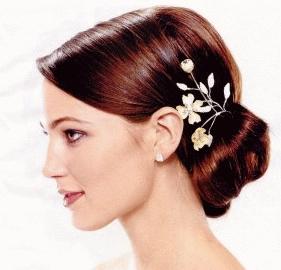 Image Via. Hairstyle – Blog.com
Wear it down: For the brides who decide to wear their long hair down. First of all the hair must be in tip-top condition for the wedding, giving it a deep conditioning treatment could help you do that. It could either be done at home or at the hair salon. Leaving the hair down creates a relaxed yet glamorous look. Achieve the old Hollywood glamour look, with side swept locks and large waves, half-updo's for a romantic image, soft beachy waves gives a relaxed feeling and sleek and straight for a classy look.
The Classic Bun: It's great for if you want a classic hairstyle with an elegant appeal. This hairstyle looks great with or without hair accessories, and is always in style, whether it's high or low. Slick formal bun styles can range from anything, from the classic to the extravagant style. The bun hairstyle comes in the high, low, braided, side, textured and twisted designs. It suits any classic bride.
The French Twist: This is a very sophisticated classic hairstyle. It's perfect for all brides, as it can accentuate your face. It is created by gathering the hair into a ponytail, then twisting it upwards then in towards the head, and secured with pins. A piece of hair accessory could be added for a finishing touch, it will also make the overall look extra glamorous. Most brides tend to go for the french twist, as it suits most dresses and almost anyone.
Old Hollywood Glamour Updo: This hairstyle comes in all different styles from classic to modern. The old hollywood glamour look, could be achieved with all short, medium and long length hair. Pull all the hair bag either into a bun or chignon, the hair needs to be sleek and finished off with some waves on the side if the hair. The vintage hairstyle creates a playful elegant look.
The Chignon: A sleek, classic and chic hairstyle for the bride. The chignon could be worn clean sleek or messy, giving you a traditional or a more romantic and soft look. The hair is normally curled into a knot and pinned together, placed either in the centre, at the side or as a low chignon. A braid could be added on the side for a romantic look.
These are the 5 most chosen bridal hairstyles. Although they are all very classic, it will always be in style, so when you look back at your wedding photos a few years later, you won't feel outdated.
A tip for the wedding guest:
The bride is of course the centre of attention, but if you're not a bride-to-be and reading this just for some inspiration, and going to attend a wedding party soon, this is for you.  As a guest, of course you would want to look attractive too. Have you decided on what you're going to wear, what hairstyle you're going to rock? For all formal occasions, it starts off with the dress, the accessories, hair and makeup you choose should revolve around it. Always pick a dress, which flatters your figure and which makes you feel confident.