A bride can look forward to her wedding day for years, with every detail planned in her mind down to the very last ruffle. It is not always easy to realise these dreams and find the items of her imagination in the real world. That is why it is important to shop around, to consider unusual outlets and to look for the perfect finish.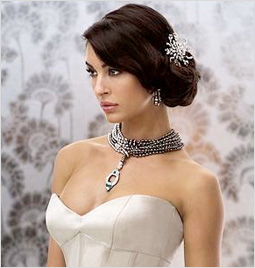 When people talk of bridal accessories, the first things that come to mind are usually the veil and the shoes. Not every bride chooses a veil, but those that do can choose from shoulder length to cathedral length, from intricate beading and embroidered lace to classic simple voile. This is usually an early decision, made alongside the all-important dress selection. The bride's outfit sets the tone for her vision of the day: traditional, casual, vintage or quirky, or any other image that suits the happy couple and their ideal wedding. Shoes contain a much wider amount of variety, with many brides spurning traditional white satin kitten heels and choosing flat pumps, stilettos in any number of colours, even some brides choosing trendy trainers or boots. These make for unique wedding photographs and reflect the character of the party.
One other key accessory for the bride is her bag. Whilst not always to hand, often passed to the maid of honour or mother of the bride for safe keeping during the ceremony, there are certain essentials a bride is recommended to carry on the day and a small stylish clutch is the ideal way to make sure every need is met. Tissues, keys and make-up for running touch-ups are recommended, as are any medications or personal products that are needed throughout the day. It is easier to carry a small clutch of items than to have to keep asking others to borrow theirs! Or if someone else has the bride's items in their pocket or handbag, the bride can feel she is making a nuisance of herself when she has to ask for them to be fetched.
Clutches are a big trend at the moment, with bags available in every style or colour and with a range of decorative features. These can include beading, sequins and diamante. A growing number of brides choose their clutch bag to represent their traditional 'something blue' and have a little contrast, though just as many find beautiful small bags in the traditional ivory, cream and white.
This article was written on behalf of Jadeland, the largest supplier for wholesale handbags, wholesale fashion bags and wholesale evening/ clutch bags in the UK.