Ankle boots are often tricky to wear, but fear not-we've got your solutions. In a nutshell, keep the following two things in mind when styling your outfit.
1) Boot-to-leg proportion is everything.
2) Never (ever, ever, ever) wear ankle boots with shorts unless you want us to come and hunt you down and publicly shame you (hopefully you're not into that).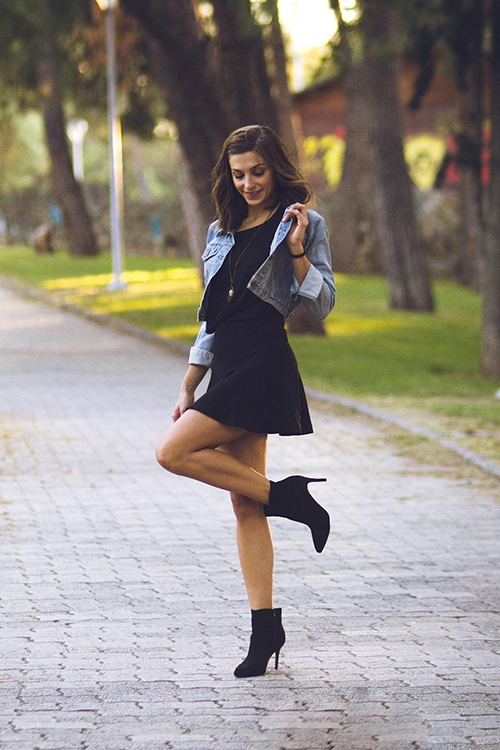 You may have noticed that not all women have the Gisele-length legs that afford her the ability to wear ankle boots with any and everything (sad but true). If your gams aren't of great length you can still pull off this look. The easiest solutions are to pair your ankle boots with skinny jeans or opaque black tights under a skirt/dress, and preferably in sunny weather with some stylish eyewear like Oliver Peoples sunglasses. The length of the skirt or dress should depend upon your height. For example, Lou Doillon is taller than Kirsten Dunst (both above), so she can easily wear her below-the-knee length cream chiffon dress with ankle boots, while Kirsten chose a shorter skirt and low-rise boots to lengthen her legs. Generally it's best to pick a skirt or dress that isn't uber-fitted. Ankle boots are already 80's enough alone, so if they're worn with a skintight mini you end up looking reverential, not referential—yikes.
When wearing pants or jeans (again, skinny cut please), we like to see the hem meet the top of the boot (either directly or close to the top, a la Gwyneth Paltrow, above). If there is room, you can tuck the very end of the hem into the boot. Try not to cover more than the very top of your boot, because otherwise you look like you're just wearing weirdly short jeans. Also, it defeats the purpose of buying ankle boots if they can't be seen!
As for going bare legged, this is more difficult for the average Jane to pull off. Ankle boots can interrupt the line of your leg making them look shorter, so if you do want to go this route, pick a very short boot and a higher hemline so that you have maximum leg length on display.