Keep Your Leather Briefcase in Good Shape
A briefcase is a perfect accessory to manage all your books, papers, files, and the other documents. They are available in different sizes, but usually are portable. They come in a variety of styles and some are especially designed to carry laptop or notepads, while some are meant for business purposes. People usually use briefcases, owing to the nature of their business. They use this portfolio to keep and protect their briefs and travel along with. Nowadays, folios are also being used by executives, teachers/lecturers, and businessmen in the course of their work.
Why Are Leather Folios So Popular?
Today, these can be made of different types of materials; but among all, leather remains to be the top choice, as it offers sheer elegance, and durability. These too come in different types, and a leather portfolio has especially become very popular these days. Although it is classified as briefcase, it doesn't come with any handle. It is carried with hand or under the arm, serving the same purpose as that of other types of briefcases.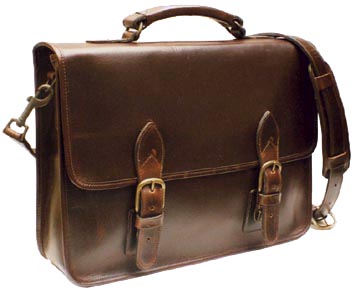 Leather folio is yet another type of briefcase that comes with a retractable handle. A box-style case can also be called a leather briefcase. Owing to the changes in the fashionable world, many designers are now crafting briefcases and there are numerous styles, designs, and types available in the market. Leather handbags and portfolios are expensive, but are highly reliable. If you're able to buy one, you'll have to take good care and maintain it, so that you'll be able to enjoy its durability. Here're some tips that you should take into consideration to maintain and take care of your leather portfolios, folio, and other briefcase types.
Don't Keep Them at Dirty and Dusty Places
Owing to the portability of leather goods, users usually carry them along when they travel, be it for normal conference or business meetings. You should know where to keep the briefcase as some places could be harmful for leather. Just the way you sit on a clean platform, you'll have to choose a place free from water, dirt, oil, or any other thing, which may cause stains on your folio. When you take up handbag, ensure that you clean the bottom with a handkerchief.
Don't Wash It
If it gets wet due to heavy rain, make sure that you dry the wet parts immediately. Since it is leather, you shouldn't be washing or cleaning with water deliberately.
Keep It Away from Sun Light
Keep your hands also clean before using your briefcase. Do not leave them for a long time under the hot sun as leather might damage soon. You can clean them often with a suitable leather cleaning solution that comes especially for leather briefcases.
Choose Folios with Zip Closure
Buy portfolios with zipper closure so that you can protect your papers or documents falling out of the case that keeps your work secure and safe. You can also opt for leather portfolios with carry handles to keep your files, business cards, and writing instruments safely.
Irrespective of the type you buy, make sure that you clean it up on regular basis, and handle it sweetly.
Author bio:
One of the accessories that make a man look good on a dinner date is leather portfolio. A perfect look goes along with a nice complement of colors. Jerry Allier is a bold writer and his articles about the men have most rated accessories. He knows what is good for a particular occasion. His articles are just what you need before you think of doing that surprise-wedding proposal.