"Tis the season to be jolly!!!" Wedding season is on and in a country like India it is not a last moment preparation. Elaborate arrangements are made beforehand so that the wedding day runs swiftly as planned and expected. One of the most important factor determining the day is the look of the bride.
A girl grows up planning a perfect wedding with her price charming and when the day finally arrives she wants to look nothing less than angelic and resplendent.  The episode comes when she can hardly decide what to wear on her big day so there follows a series of dramatic dress rehearsals. Every bride as an individual wants to look different and extra ordinary, the bride has her own fantasies about her attire too.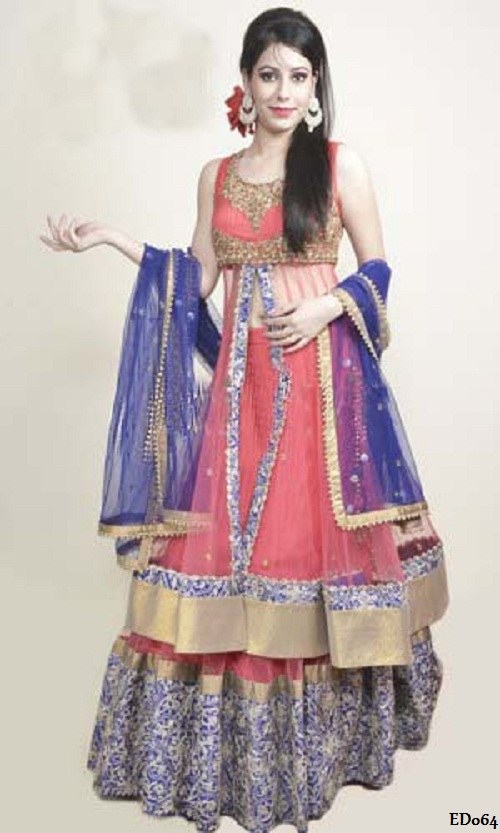 Fashion revolution in India has been able to render the required service. Not all brides want to wear sarees even if they want a traditional wedding! But in a multi cultural country like India it is hardly a problem. The traditional Rajasthani attire has therefore qualified to be a popular and loved wedding embellishment namely lehenga choli, ghagra choli or chaniya choli.
Fashion has definitely evolved and lehenga choli has been the inspiration behind the making of a bridal lehenga saree. Bridal lehengas are the recent favorite of every Indian bride. The making is such that it defines a modern woman in a traditional way. The wedding season calls for competition because every woman wants to look her best and graceful. Here are some helping tips on how to buy the bridal lehenga this wedding season without having to spend money the size of Russia:
When we talk about the best bridal lehenga we are not necessarily talking about the most expensive one or the tag of the designer but something that will suit you and accentuate your best features, something that will seem was made only for you! Take opinions of your trusted girlfriends, your parents and all your trusted ones whose honesty are the best policy. The digits need not be so unaffordably high, all that matter is what looks great on you.
Set your budget before you go overboard with your expense. It is to be remembered that not all designer lehengas are great. Explore before you purchase. Designers with big names overprice their design as they incorporate gold, silver and semi precious stones and do everything queen-like. Blooming designers have the same concept but they charge a fraction than those well established bridal designers. Compare and contrast before purchasing your bridal wear to avoid disappointment and regrets later.
Some designer lehengas are so heavy that will give the impression of a fatigued bride than a happy one. Seek your own comfort first. Some designer lehengas look extravagant but it is hardly wearable. Looks are deceiving, make a careful scrutiny.
There are four kinds of fitting in bridal lehengas.
A-cut
Straight cut
Umbrella cut
Fish cut or mermaid cut
Brides usually opt for the fish cut because it is the trendiest. The fitting is such that it is tight up to the knee and then it takes a twist. The lower part is frilly and loose and flares perfectly. The choli for this is made in style of a jacket with deep necks and backlines. It perfectly harmonizes the occasion.
Before you rush into buying the trendiest bridal lehenga you spotted you ought to know yourself first, and by that I mean you ought to know your body well. All of us have flaws and there are ways we camouflage it. Know your body well to know what shape, cut and color flatters you.
Hourglass women look ravishing in fish cut style, pear shaped and petites look amazing with 'A' cuts and straight bodies with no curves should opt for cholis that have neckline below the collarbone.  Understand your body and make the right choice to look extremely beautiful on your once-in –a-lifetime day. Look for the color that suits your complexion and for that decision you may need the help of your friends and relatives. If help is not available think about the time you got compliments wearing a particular color.
The season that your wedding takes place is an important factor that determines the bridal attire you wear. Since it is winter now heavy and warm fabrics like brocade, velvet and silk should be selected.
Lastly, who said you cannot be your own designer? If you have an innate sense of fashion and style, why not design your own lehenga? It will help test your entrepreneur skill and exclusivity is guaranteed. Ask your loved and trusted ones for their opinion because I bet nothing can be cooler than bride wearing her own design and stealing her own show.